It's not a surprise that blogs have the 3rd highest ROI of any content format. And with worldwide content marketing revenue estimated to reach 137.2 billion U.S. dollars in 2026, blog growth isn't stopping anytime soon. Butwriting high-quality content is still one of the top challenges marketers face. So what's the recipe for successful blog writing?
Anastasia Vyshkvarkina
Marketing Specialist
---
Content writing is hard. And wide, in its scope. It covers blog posts, website articles, infographics, video scripts, checklists, surveys, web content, and even books. Which is why it can be overwhelming – even for an experienced writer. But it's something you can get better at – especially if you have some trusty blog post templates to help.
As you might already have a blog content strategy and a plan for what type of content you're going to write, it comes very handy to use templates. Templates help moving from a post idea to its execution by seeing how your post should be structured from the beginning – making the writing and editing process faster. In this guide you will find eight universal templates and outlines that you can adjust or customize to your particular post.
The basic blog post structure
1. Headline
The headline needs to grab the attention of your readers, provide an enticing snapshot of what the post is about, and meet SEO guidelines to get a high search rank.
Headlines should include your focus keyword, ideally be between 55 to 70 characters, and contain no more than a 5 to 7 word count.
2. The hook/lead
The hook is a one-three sentence teaser of what you're going to cover. It should capture your reader's attention by depicting your story as unusual, curious or different, to draw the reader into the story.
3. The Body
The body of a post details and discusses the story, andcovers any teasers that were highlighted in the hook. Use subheadings, visuals and have a clear structure for the content.
4. Conclusion
Your conclusion summarizes the post and it should be short,sweet, memorable and engaging.
5. The punchy CTA
CTAs define what you're expecting froma reader. Use strong, emotive verbs for your CTA, to create a sense of urgency in the reader's mind.
Choose your blog
post template
---
The listicle
This is probably the most common article type and it's the easiest to write. It structures your content into orderly, manageable blocks, which can be particularly helpful if you've got a lot of information (or little time to write). The format, however, is flexible.
1. Headline
The headline is usually formatted with the total number of points covered and then the topic.
2. Hook / lead
Include an overview of exactly what's listed and why the reader should care about its contents.
3. Subheadings (numbered or bulleted)
What is it
Why care
Example
4. Conclusion
5. CTA
Newsjacking
Newsjacking refers to the practice of capitalizing on the popularity of a news story to amplify your sales and marketing success. The term was popularized by David Meerman Scott's book "Newsjacking: How to Inject Your Ideas into a Breaking News Story and Generate Tons of Media Coverage." The goal is to introduce your own angle on the story, explain it in detail, and remind the reader what they learned.
1. Headline
2. Hook / lead
Summarize the newsworthy topic and set the stage for your perspective.
3. Subheading #1
Context and analysis to elaborate on the news story with deeper analysis or perspective.
4. Subheading #2
What should you do now?
5. Conclusion
Wrap up your post with a brief statement that's reflective of what your readers just learned.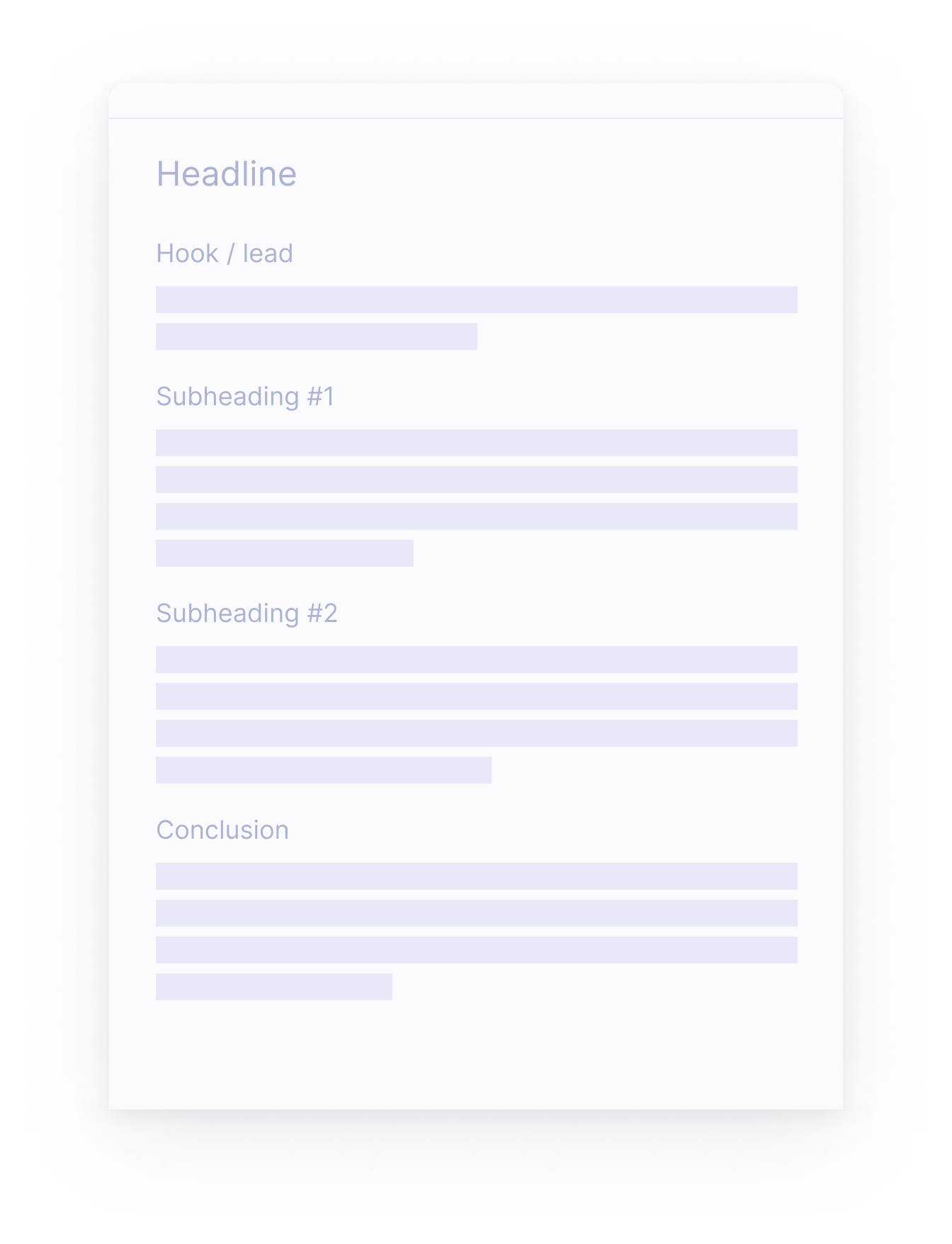 Tips, How-to post,
Step-by-step
The purpose of a how-to post is to teach you how to do something. It's typically broken down into simple steps that are easy to follow and simple to recreate over and over again.
1. Headline
The title of a how-to post is always structured "How to X."
2. Hook / lead
In the introduction, you'll give a brief overview of the topic. Be mindful of the audience, what they uniquely struggle with and how your tips help them.
Subheadings (steps)
It should be a numbered list of the tips/steps. Each should start with a verb so that it's clear what action the reader needs to take.
4. Conclusion
5. CTA
Beginner's guide
A beginner's guide explains a topic, in very basic terms, and is specifically designed for someone who isn't familiar with the topic.
1. Headline
2. Hook / lead
Consider how much your audience already knows about the topic and what they need to know.
3. Subheadings
Take an in-depth look at the topic and break this section into different parts with <H2> subheads to help guide the reader.
4. Actions the reader can take
Explain how this information can help the reader. This can be formatted as a list of tips or suggestions.
5. Conclusion
Summarize what the reader should now know.
6. CTA
Case study
A case study is a deep dive into the story of a customer's experience, a process or problem-solution situation.. This type of post is generally specific to a brand/company, should be backed up with data and include a comprehensive analysis.
1. Headline
Summarize what the case study is about, and the takeaways.
2. Hook / lead
Explain what the topic is.
3. The Study
What was the problem?
What was the solution?
What data did you look at?
What tools did you use?
How did you organize it?
Who were the key players involved?
4. Analyze the data
What did the data show?
5. Conclusion
Key takeaways.
6. CTA
Survey
A survey post is similar to a case study, but the data isn't as comprehensive. It generally outlines the purpose of the survey, its outcomes and the conclusions drawn from the results.
1. Headline
The headline of a survey post is the hook.
2. Introduction
Provide some insight into the topic and explain what led you to ask these questions. It can also include an overview of key findings in 3-5 bullets.
3. Findings
Go in-depth on your survey results.
4. Graphics
Turn the most interesting findings into graphics.Explain how this information can help the reader. This can be formatted as a list of tips or suggestions.
5. Conclusion
Once the findings are highlighted and explained, make a call to action. What can the reader do with this information? Should they change their actions based on your survey? What lessons can be derived from these statistics?
6. Methodology
Sum up how and when your survey was conducted.
Comparison
A comparison post is an article that compares two items. Usually, the reader is trying to choose which item is best for their situation, so they want to see a side-by-side comparison to help them decide.
1. Headline
This is generally "X vs. Y" ,with some short explanatory copy for context.
2. Hook / lead
Provide context on why someone would compare the two items.
3. Subheading #1
What is X
Pros and Cons of X
4. Subheading #2
What is Y
Pros and Cons of Y
5. Subheading #3
X vs. Y
The best way to do this is in a chart with qualifications.
6. Conclusion
If there is one option that's better for everyone, state this in the conclusion. If the best option depends on the situation, sum up which option is better for which type of person.
Expert roundup
Expert roundup posts bring together opinions, quotes or advice from a selection of industry experts. The goal is to provide multiple different perspectives on a particular subject.
1. Headline
2. Hook / lead
What is the subject?
Why does it need to be discussed with experts?
3. Subheading #1
Expert #1
4. Subheading #2
Expert #2
5. Actions
What the reader can do today.
6. Conclusion
Additional blog post writing tips
Keep your paragraphs short. 1 key idea per paragraph, with only 3 – 4 sentences.
Add in a tie-in (or transition) sentence. At the end of each subsection make sure to tie it into the next section – linking them together.
Use subheadings. Subheadings are the 'bones' of your blog and form the overall structure of the content. As a general rule, you'll want to include one every 300 words or so. Your post should still make sense (although very briefly) if you only read the subheadings – they are your guideposts.
Clarity over convolution. People don't want to be dazzled by your command of the english language, they want to understand what you mean – keep it simple, friendly and personable
There's no-one-fits-all formula when it comes to content. But these templates are a great way to get you started, to set a framework for your post so you can structure and then just fill in the blanks. But don't feel confined to them. Make adjustments as you see fit and don't forget to be creative with design as customers judge your content both, by quality and design – 46% assess the credibility of a web page based on the appeal of the visual design, including layout, typography, font size, and color schemes. Read more on how to improve your content design in our Ultimate Guide to Content Design that Converts.
Give Setka a try
Get a demo from our Customer Success team or try Setka for 14 days, free.